Almost three years living in Canada, which means almost three years of dealing with my insecurities and learning from this culture as fast as I can. Thank God I finally feel more fluent, confident and comfortable (yay!); but this is not done yet, more immigration processes still need to be done.
A couple of weeks ago I did my English test to apply for the PR (Permantent Residence). For the Speaking part I had to wait 40 minutes in a classroom, no one else was in there with me and it was prohibited to use any electronic device; so I started reflecting on this "Canadian Adventure".
I remembered how nervous I was when we just got here. Once we found an apartment, I was only clear about the three buses I had to take to get to school, and that I must paid absolute attention to my classes because I could easily get lost and don't understand the lectures. I didn't feel comfortable approaching my classmates either. I was shy in English even though in Spanish I'm not… So frustrating!
Here's an anecdote I'll never forget:
First or second day at school in a journalism/news class. My professor and classmates were discussing about some decisions the Premier of Ontario and the Mayor of Toronto were making. I thought "Mayor? what's a Mayor? what does he do?… Premier? who's the Premier and what's the difference between this guy and the Mayor?"
I remember listening to some random names. I couldn't participate at all, I didn't have a posture or opinion on that matter, I just wanted to understand what they were talking about! So I opened my computer and googled those names. I found their faces and positions, but it was not enough, everything remained unclear for the rest of the class and the day.
As soon as I could, I called somebody who spoke Spanish but had lived in Canada for a while and told him: PLASE EXPLAIN ME, I NEED TO UNDERSTAND SO MANY THINGS!!!
It was such a relief! Understanding English was not a big problem, the real issue was the cultural background, the experience, rules, processes, customs, everything that is not taught in any English class. That's one of the biggest challenges, and it is not a piece of cake.
I could tell you MANY more anecdotes like that one. I remember getting back from school every day and telling Mr. A those stories. He always ended up saying: "you see? there's no problem if there's something you don't understand or if your grammar is not perfect, this city is full of people like us, we all are learning." That was true, nobody was expecting perfection from me, but I did, and that's why I preferred to avoid interaction as much as I could.
Later on, I realized I was not improving as I could, nor enjoying the immigration journey. I felt like a total failure. For me, there were only two options: being dumb or being perfect… pfff!
Unfortunately, at that time, I was not able to put that idea down in words, and it was even harder to understand that that belief was blocking my adaptation process.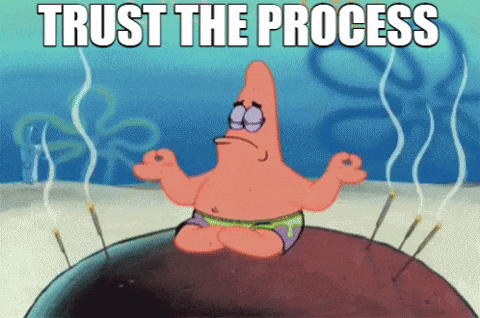 At the end, the English test went well, I didn't expect a better mark in speaking rather than in writing, but I got what I needed. Then I decided to post something in English here on the blog, even though I knew you would find some grammar or spelling mistakes, and my Perfectionist Eye might find them too every time it comes to see how he can improve it. (BTW, it's amazing how my Perfectionist Eye is NEVER tired of analyzing everything I do).
So the big questions are: What did I do to feel more comfortable? Have I overcome those "not so nice" feelings already? Am I now passing this real test?
I guess the most accurate answer would be: I'm on it… haha.
On one hand, I still can't get rid of this perfectionism, but I'm considering to leave it as it is. It would be less tiring if I just accept it; because at the end, it keeps me working, searching, paying attention; and therefore, learning.
On the other hand, I'm learning not to be ashamed of my errors, everyone makes many mistakes every day and nothing bad happens. I guess at some point I will merge with Canadians in a certain way; but at the same time, my accent, background, and experience will always make me stand out, and that's fine.